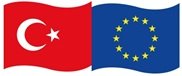 T.C. MINISTRY OF HEALTH
DIRECTORATE GENERAL FOR PUBLIC HEALTH
SUPPORTING MIGRANT HEALTH SERVICES IN TURKEY (IPA 2020/417-911) VACANCY ANNOUNCEMENT
Job Details
"Supporting Migrant Health Services in Turkey" SIHHAT Project is currently looking for a highly qualified "Communication and Visibility Assistant".
Job Purpose: To follow up the communication and visibility activities of the project and support the department to improve the implementation.
Department: Communication and Visibility
Reporting to: Communication and Visibility Expert
Location: Ankara
Main Duties and Responsibilities:
Assist / support the "Communication and Visibility Expert" in the field of communication and visibility within the framework of the project documents
Assist the organization of planned events to increase the visibility of the project
Contribute to the updating of the project's social media accounts and website
Provide technical support for the preparation of promotional videos and other materials
Analyze the news related to the project in the national and international media and presenting regular reports to the "Communication and Visibility Specialist"
Prepare reports of project's communication and visibility activities on a monthly basis
Contract: Fixed term contract with the possibility of extension
Deadline to Applications: 18 January 2022, local time 23:59
Required Qualifications
Education: Preferably, having a bachelor's degree from the departments of "Communication", "Communication Design" or "Public Relations and Promotion"
Experience:
At least 2 years of work experience in communication or public relations and promotion
Having practical experience in designing and implementing promotional campaigns for a specific target audience
Experience in organizing and running major events (e.g. high-level kickoff event)
Having experience in creating content and managing accounts for social media
Preferred: Experience in the Marketing and Communication studies of national and international projects in the health sector and/or Migrant Health in Turkey
Language: Fluently spoken and written English and Turkish
Preferred: Good command of Arabic
Knowledge and Skills:
Practical reporting skills
Advance working knowledge of using MS Office programs
Knowledge about the current marketing and communication providers in Turkey
Knowledge of EU communication and visibility rules
Preferred: Knowledge of Adobe programs