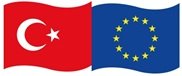 T.C. MINISTRY OF HEALTH
DIRECTORATE GENERAL FOR PUBLIC HEALTH
SUPPORTING MIGRANT HEALTH SERVICES IN TURKEY (IPA 2020/417-911) VACANCY ANNOUNCEMENT
Job Details
"Supporting Migrant Health Services in Turkey" SIHHAT Project is currently looking for a highly qualified "Human Resources Assistant".
Job Purpose: To support the human resources activities of the project in line with the project documents and, provide the administrative support and guidance to the field and partners ensuring the consistency and accuracy in the scope of Labor Law.
Department: Human Resources
Reporting to: Human Resources Expert
Location: Ankara
Main Duties and Responsibilities:
Assist / support the "Human Resources Expert" and the department in the field of human resources activities within the framework of the project documents
Perform administrative duties, such as maintaining employee database and sorting emails for the HR department and assist in the day to day operations of the HR Department
Assist the HR Expert in policy formulations, implementations and field guidance
Support the hiring process and complete the administrative tasks
Provide guidance/support on Labor Law and HR policies to the field
Produce and submit the weekly and monthly department reports
Keep all the field staff records up to date and ensure all the changes are reflected in the weekly reports on time
Provide advice and support employees and departments in human resources and labor law matters
Handle of individual and collective legal issues
Ensure compliance with central guidelines and directives for the HR department
Support all internal and external HR-related inquiries or requests
Ensure smooth communication with employees and timely resolution to their queries
Process and complete the social security entry/exit
Prepare, update and archive of PMU staff files and track the attendance forms
Contract: Fixed term contract with the possibility of extension
Deadline to Applications: 25 September 2022, local time 23:59
Required Qualifications
Education: Bachelor's degree in Human Resources, Labor Economics, Business Administration, or related.
Experience:
At least 3 years of continuous work experience in human resources departments
Having practical experience and knowledge in Labor Law 4857 and social security systems (SGK)
Language: Good command of English and Turkish
*Good command of Arabic will be an asset.
Knowledge and Skills:
Highly computer literate with capability in email, MS Office, and related business and communication tools
Practical knowledge of using basic and mid-level excel
Effective HR administration, people management, communication and reporting skills
Strong interpersonal, communication, follow-up and problem solving skills
How to Apply:
Interested candidates are requested to submit their application including the most recent CV in English with contact details (name, position, phone and e-mail details) to the e-mail address cv@sihhatproject.org by the end of 25 September 2022.
Please note that only shortlisted candidates will be contacted.